Choose Showtime to Buy Tickets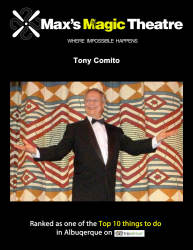 That's Impossible! - Starring, Tony Comito
Ages: All Ages Price: $10 - $20
This Event Has Ended
Tony Comito, Professional Magician,
 saw his first rabbit pulled out of a top hat in 1964. The International Brotherhood of Magicians was holding their annual convention in Des Moines, Iowa. As he stood in the wings of the Hoyt Sherman Auditorium and marveled at his backstage view of the world's greatest magicians, he realized for the first time, that nothing was impossible. At that moment, he decided to become a professional magician.
Putting his education first, Tony went on to study Speech and Drama at the University of Iowa. After completing his formal studies he traveled to California. There he played the part of "Merlin the Wizard," at the Renaissance Fairs outside L.A. and Novato. Comito's stage act was featured on many occasions at San Francisco's famous Magic Cellar.
With his extraordinary sleight of hand, magnetic stage presence, and irresistible charisma Tony Comito's act has been acclaimed all across the USA and Canada. He was the opening act recently for Judy Tenuta and also worked with Harry Anderson's College tour in Texas. From "The Magic of Music," with the New Mexico Symphony, to private parties at Chicago's Drake Hotel, he has entertained North America's most sophisticated audiences.