Choose Showtime to Buy Tickets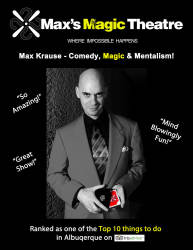 The Comedy, Magic & Mentalism of Max Krause
Ages: All Ages Price: $15 - $25
This Event Has Ended
Max Krause moved to Albuquerque, NM in March of 2013 to purchase Max's Magic Shop and Max's Magic Theatre. Max has been performing and practicing magic for over 35 years and has traveled to 49 of the 50 states and performed countless shows. Max's show consists of original effects and routines combining family friendly comedy, magic and mentalism to create an experience you won't soon forget!

Max's Magic Theatre is one of the top things to do in Albuquerque on Trip Advisor. Come to the show and see why!
What people are saying...
Howie K
Hey Rocky, watch me pull this review out of my hat!

Add this magic theatre to my short list of places to take a date, a BFF or the office. Max performs an hour of awe-some stunners of world-class pedigree, which should be expected from a professional of his experience. The tricks this guy has up his sleeve simply cannot be comprehended. I mentioned that he really needed to screw up, just once, to prove he's human. But he won't, I'm sure, because he's just too damn talented. Dude definitely turns lemons into more than lemonade. (Just go already.)

The theatre is maxed out at 26 seats, which is just about right. You're watching slight of hand and some fast moving stuff, here, so the space is appropriately intimate. Our show was arranged for a group of Yelpers, and Max completely nailed the theme, including a trick about traveling the world ('cuz Yelp is International, hey), the founding of the company, and off-hand jokes about reviews. Yep, the guy's got a sense of humor, and he's doing one other thing that really ties this age-old craft to the present day: some technologic savvy. I wasn't expecting to see him pull a smart phone from his sleeve.

Again, this is one of my picks for really exceptional fun in the 505. The show runs an hour, perfect. He can take this show on the road, as well, so consider this guy for your corporate events and otherwise. He puts a ton of effort into every show, it's worth your cash. Oh, and if you wanna learn how he does it, the shop's right next door.
---
Alfonso G
I love a good show and have sought out different types of shows all over the country. Never did I think I'd find such a treasure here in my own backyard. Max's talent is second to none! He keeps you guessing and will absolutely blow you away with his routines. I'd recommend you go, take your kids or use his show as a great place to take a fun date! Either this is a show you must experience first hand and one you will not soon forget!
---
 Alicia P
Great show... Took two 8 year old girls there and they were more then amazed. Max the magician did a great job of keeping the audience involved and entertained. No show like this one I guarantee!!! Gone once, gone twice, and will go again!!!
---
Jeff M
What a fun and unique night! I was challenged to find a unique date night and Max's fit the bill. The show is reasonably priced it is around the price of a movie if you buy your tickets 4-5 days in advance. The venue is small so all the seats are good. You will get a chance to participate, but don't worry if you are shy, Max makes it fun and easy going. The tricks are great and the show is safe for all ages. The theater is simple so don't go expecting lots of frills. This is some up close magic not a Vegas stage production this is some good slight of hand, some mentalist, and comedy all mixed together. We mixed it in with dinner before the show and coffee after for a great night.